Background
The current generation of young adults has adapted to an extensive use of social media. The way we communicate and live has changed. We found that though social media has given people the opportunity to connect in a way that wasn't possible before, it has both negative and positive implications. In particular, we found that social media can be emotionally exhausting and create barriers the may prevent some from engaging in more meaningful interactions.
Challenge
Our goal was to find out how young adults heavily immersed in a social media rich environment felt and if there was any trends in the impact it has on them. We set out to find out the pros and cons of social media and how it affects friendships and connections between others. As a result of this research, I teamed up with a pair of developers and began working on designing an app that would work to encourage users to spend more time together in-person. This is a work in progress.
Work
Field Study Research
Scholarly Research
Research Synthesis
Is there a connection with use of technology and feelings of loneliness in young adults?
Our initial curiosity was whether there is a connection between the use of technology and feelings of loneliness. Our initial secondary research found that social media and internet can have negative and positive affects on health and emotional well being in a broad spectrum. Because of these impacts, we decided to explore the changes that occur in socialization and created a research plan to find out. From this, we distilled it down to a solid research question: How does social media play a role in the socialization of young adults?
Because it is a crucial time of self-discovery, the age range of young adults we chose to interview was 18-22. We incorporated a number methods to gather data, synthesize it, and decompose it to land on a number of insights. For example, the social media platform activity allowed us to better understand the way young adults emotionally process the content they consume over social media.
We created a system that allowed to us to be consistent in the way we interpreted the interviews.
We spoke to social psychologists on their professional understanding of the connection between young adult use of technology/social media and its implications. We also conducted interviews with young adults and ended with a guided activity that had participants share their thoughts about their own social media profiles and feeds. The interviews were recorded.
Following, we created a code for the data in order to have systematic way to interpret the responses. We used that code to mark the interview transcripts and recorded the findings on sticky notes. After doing this, we identified themes within those findings and landed on a series of insights.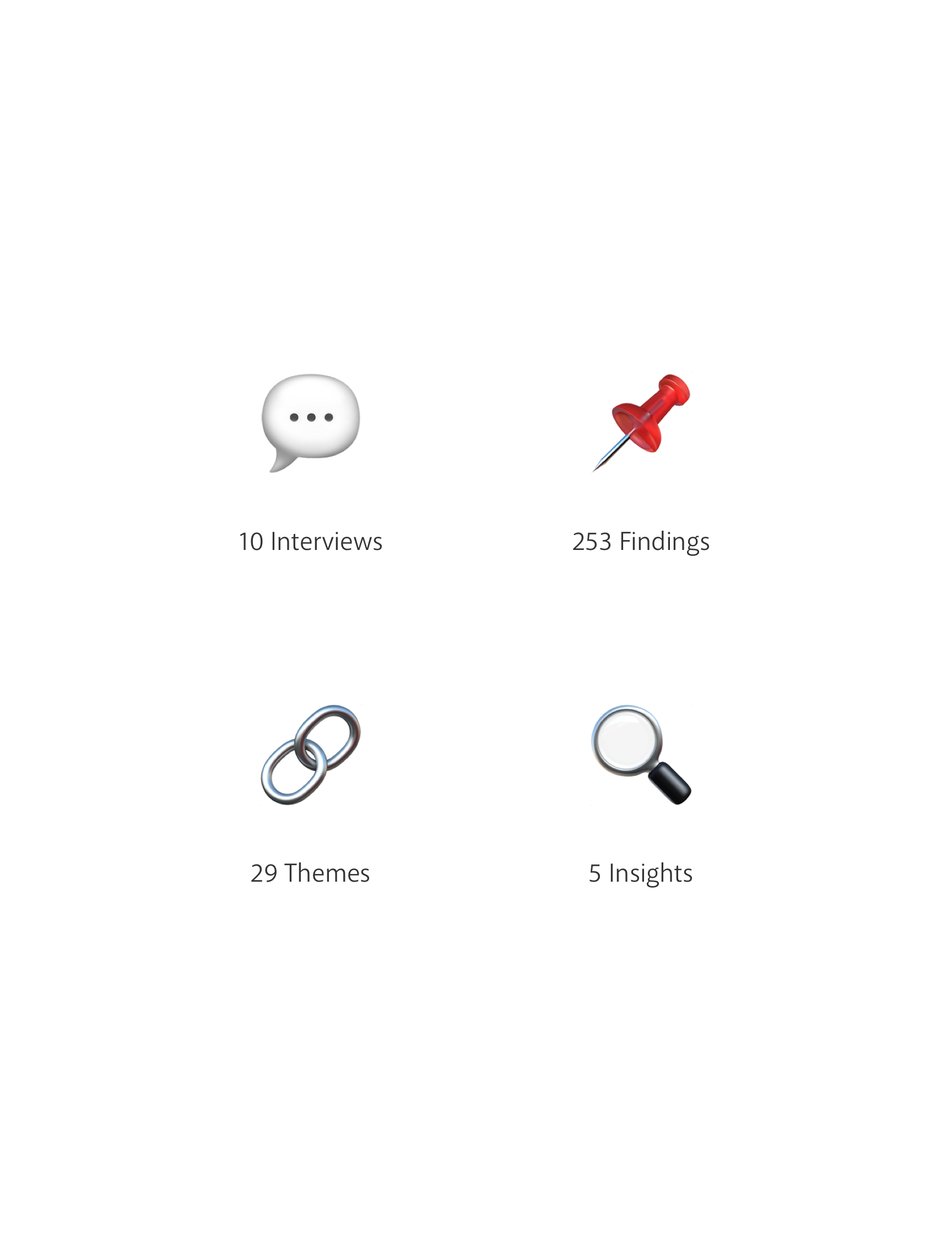 Social media can have negative implications on emotional and physical well-being.
The way social media is incorporated in some young adult's lives can have negative implications. We came to the consensus that though social media can be a great and fun tool, it can also deter interactions, create barriers, and can cause emotional exhaustion in young adults. Ultimately, the barriers social media often creates can actually result in less social activity. This can result in an emotional state of loneliness that young adults are unsure of how to address.
Studies prior to this have proven that loneliness and social isolation can significantly increase risk of poor physical health and early mortality in the long run. Our research confirms that social media can result in young adults taking part in less meaningful in-person interactions that are vital for both emotional and physical health. Below are the main 5 insights we gathered.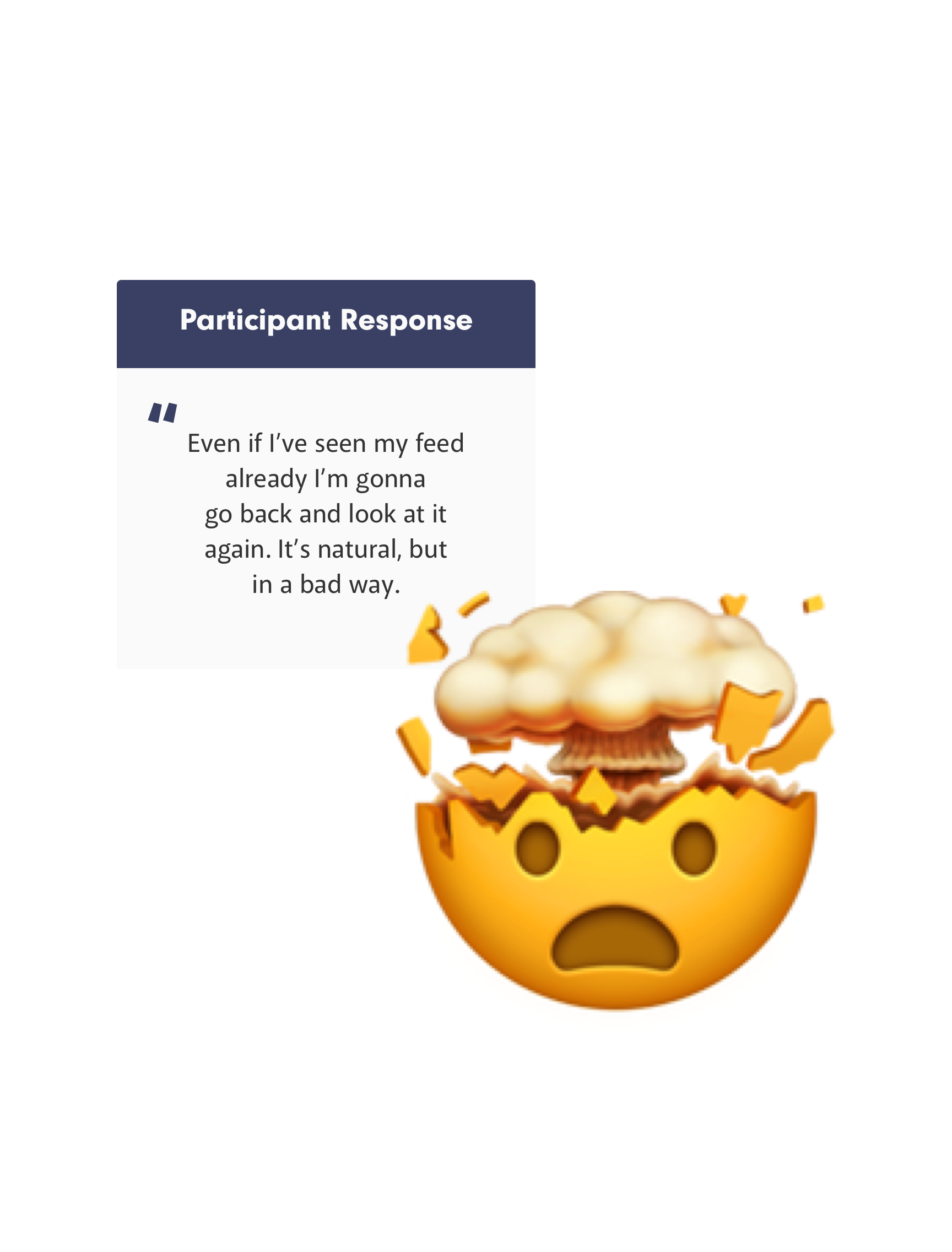 The maintenance required by social media can be emotionally exhausting.
Because of the over-saturation of technology and interconnectivity, the maintenance required creates a stressful environment. Thus, making young adults more passive and emotionally exhausted. Many felt that social media is fun and naturally integrated, but also contributes to stressors that wouldn't be there otherwise. Social media is time consuming, and encourages an overwhelming amount of multitasking.
Social media can discourage from engaging in meaningful, in-person interactions.
Social media gives an illusion that we're constantly interacting, but most of the interactions don't have much weight. Many participants talked about how in-person interactions are more valuable than online interactions, however the amount of work it takes often discourages people from meeting others in person. Online interactions are constant and quick, so they require less attention and effort.
Empathy comes naturally when learned, but social media does not foster that environment.
Social media detaches us from the meaning of what we say and the engagement level of interactions both in person and online. Because of the lack of physiological elements, our online engagements detach us from our interactions, affecting how we behave and what we choose to say both in-person and online. Tech provides an anonymous outlet that enables people to say things that they normally wouldn't say to someones face.
Social media can create barriers that people can feel stuck behind.
People want stronger connections but allow themselves to get stuck behind the emotional and physical manifestation of barriers created by social media and technology. Young adults feel like social media is not a place to post personal struggles and emotions, which leads to people adopting the mindset of internalizing all negative emotions. In public settings, people tend to be engaged with some form of technology, which can physically deter in-person interactions from happening, while encouraging others to conform to this behavior.
Many are unsure of how to address loneliness in conjunction with those barriers.
Young adults can be unsure of how to address loneliness in conjunction with barriers created by social media. People need somebody to turn to that will recognize feelings and respond effectively. Many participants talked about the times and circumstances of when they felt lonely, but had a hard time describing and explaining the lack of action after recognizing their loneliness. When asked about other's observed loneliness, they had a much easier time speaking to what others might need or want.
6 out of 8 of the young adult participants related to the primary persona.
We created a series of personas to better understand our target user base based on the insights we gathered. The ecosystem map below is a simplified version that distills our primary findings in a more comprehensive format. It features key interactions and feelings that we noticed across our participants. It focuses on what contributes to loneliness in the primary individual.
We landed on a series of design principles that would inform our design moving forward.
The design should not add to the excessive maintenance of existing technology. It should also encourages natural human behavior, despite being an artificial creation. To be most effective it should also recognize a users needs and adapt to those needs. It should also create an environment that fosters empathy. Ultimately, the point is to help people recognize and decide what to do individually.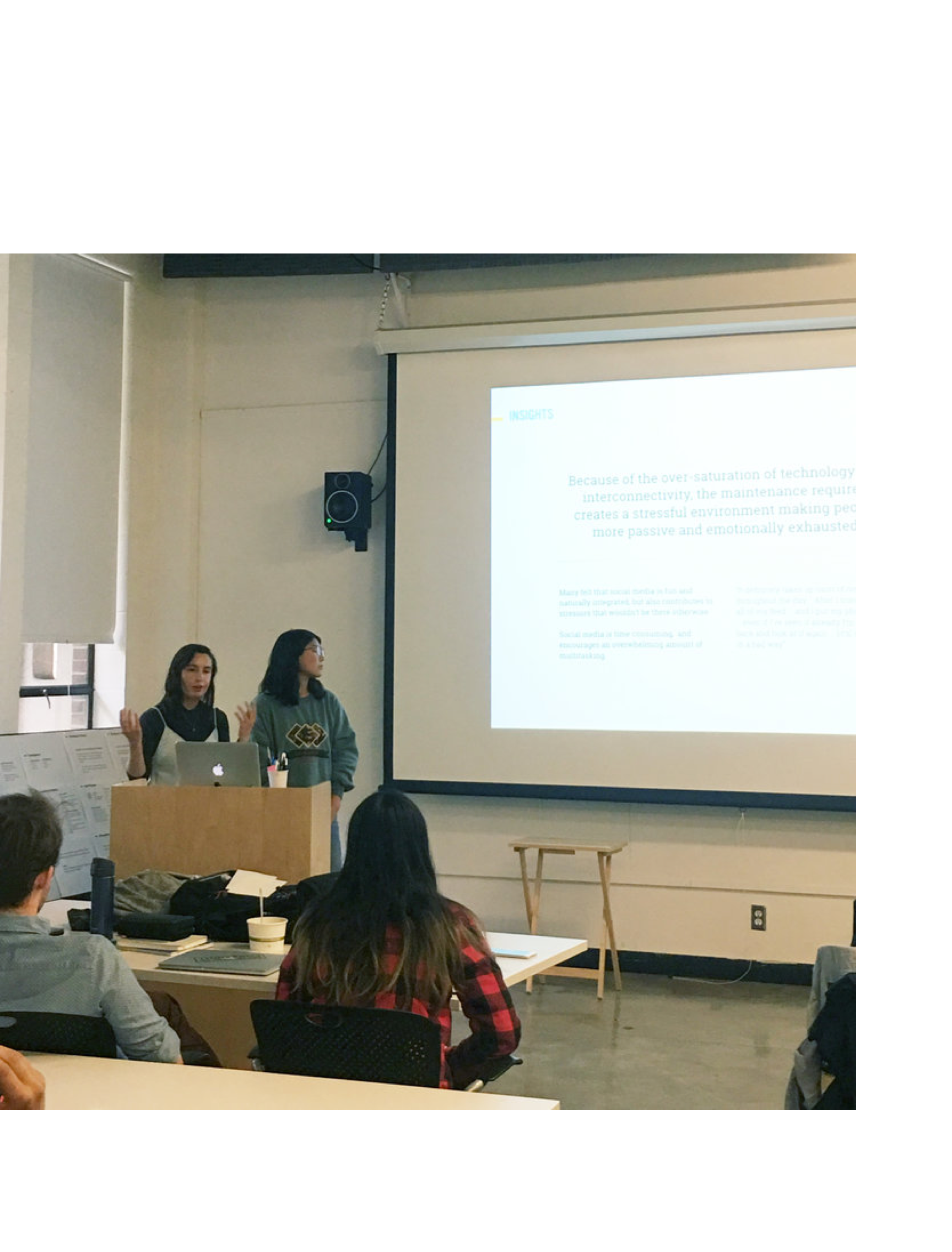 Should we use technology to solve a problem caused by technology?
After presenting our work, we developed a design response based on a constraint—hot mics. The concept was was an AI device that talks to users about specific moments in their day in order to build emotional intelligence and encourage more meaningful interactions. We did extensive brainstorming, conducted "wizard of oz" user testing, and further refined the concept into a video prototype. Considering the current technological limitations, I felt like there could be a more immediate solution. More recently, I teamed up with a pair of developers and began working on designing an app that would work to encourage users to spend more time together in-person. If you're interested in what I'm working on, feel free to reach out to learn more!