Background
AccessMap is an online map routing service for those that have difficulty getting around. It provides routes and information to wheelchair users, cane users, and many others. It allows users to select pedestrian focused preferences in their routing that that have been overlooked on other platforms such as maximum incline grades, requiring of curb ramps in routing, and avoiding construction. Since it's release, it's helped hundreds of pedestrians get around the city of Seattle every month. To better accommodate to our users, we worked to provide more features while simultaneously improving the user experience of the service. You can find the general work we did here.
Challenge
To use AccessMap, users have to be able to quantify their ability to traverse hills. Since incline is not a familiar unit of measurement, this poses a problem for users that would need assistance in choosing an incline on AccessMap. To tackle this, we created an incline finder tutorial which uses the user's real world knowledge to provide suggested incline settings. Our model uses the user's real world knowledge to provide suggested incline settings. By educating people about incline grade and giving them a better understanding of their ability, AccessMap will have the opportunity to expand to a larger audience. It will allow more users to get around the city safely and easily within their personal physical ability as pedestrians.
Work
UX Design
Prototyping
Scholarly Research
User Research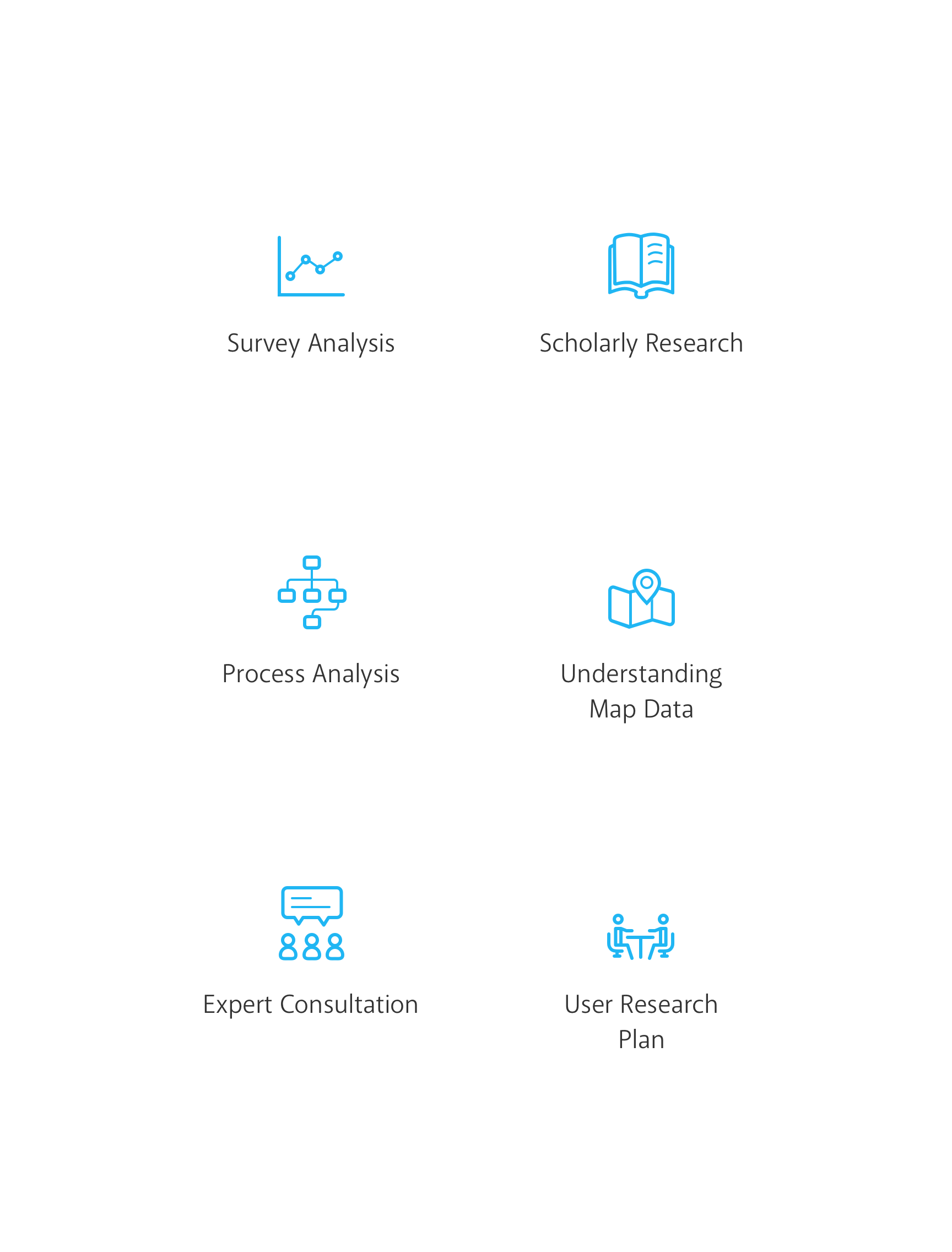 To design an effective solution, we first had to understand the problem space.
Through survey findings, process analysis, and consulting with our professor, we found that very few people have a solid understanding of their preferred incline grade. To better understand the problem space, we conducted secondary research by exploring studies and existing standards for pedestrian accessibility. We conducted six main methods of research, which are listed to the right. You can read more about the research and general work I did for AccessMap here. After completing our design, we wrote out a user research plan that was later approved by the Institutional Review Board as a part of a larger AccessMap mobility study.
While exploring solutions, we found that obvious approaches to teaching users about incline grade are ineffective.
We explored a number of solutions before landing on the Incline Finder Tutorial. While working on solutions, it was a constant back-and-forth between ideation, user flows, wireframes, and discussions. Each round we presented our ideas working to identify potential problems and benefits each approach has.
We realized that we needed to find ways to minimize user error while gathering meaningful data regarding the user's ability to traverse hills. For the results, our discussions entailed trying to create a conceptual model focused around the spectrum of difficulty. We had to ensure that the suggestions would be useful and easy to use. Below are some of the ideas we had throughout the process.
We start from the top by ruling out the inclines that are impossible to traverse.
It starts at 10% grade, going down to 9%, and so on. To minimizer user error, we focus on streets within the current range and in an area that the user is familiar with. We use hotspots to ensure that there is enough variation of inclines in an area to go through the full range. Once the user selects a street that he or she is capable of traversing, it sets the maximum incline for the user. The tutorial repeats this process until the user selects a street that he or she is capable of traversing without difficulty, setting the preferred incline. At the end, we provide these results to the user.
We understand the importance of testing the efficacy and accuracy of our design.
We wrote a user research plan and contributed to a more general research study that focuses on better understanding pedestrian mobility and preferences. Nick Bolten, a lead developer on the AccessMap project, assisted in creating a prototype that would be used for the user research study. After completing my last quarter at UW, the Institutional Review Board (IRB) approved the AccessMap research study. It included our work as well as other related research. AccessMap began recruiting participants for the study early fall 2018.
The prototype is to be used in the study as a lo-fi version of the tutorial, guided by a researcher. A research would ask a series of questions in the same manner as the user flow. The prototype showcases streets that fit only into a chosen range. The participants would have to already be aware of their incline preferences. To identify the accuracy of the results, we would compare the results to users stated preferences.